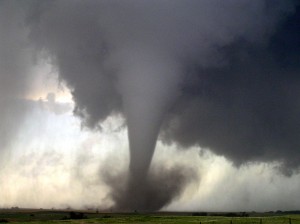 Who in their right mind would be crazy enough to set off chasing tornadoes and more importantly why would anyone want to be a storm chaser?  The answer to those questions are both simple and extremely various depending on whom the individual storm chasers represent.
Our atmosphere is a fluid entity.  To see an example, watch as you pour creamer into your morning coffee and observe the billows of white wisps as they boil and rise and fall creating cloud-like patterns inside your mug.  Now imagine this on a global scale.  If observed often enough a series of patterns, if watched long enough and widely enough, would be observed over time.  Meteorology is a science of observation and annotation in the pursuit of making accurate predictions not only for storm warning, but for agriculture and industrial application.
Meteorological data has only been seriously collected for the past 100 years and storm chasers are used for data collection to help meteorologists identify weather patterns over time.  Needless to say, data collection over such a relatively short time is rather limit in what has been observed and accurately recorded.  It is the goal of the National Weather Service, meteorologists, and storm chasers to account for patterns or signals to increase storm warning systems that can be announced with enough time for people to evacuate or find shelter.  Many meteorological patterns have been recognized as reoccurring from annually to once per decade.  Over the course of many more years more patterns can be hopefully determined by the use of satellites, computer imaging, and human observation, i.e. storm chasers.  To more accurately record data, meteorologists incorporate the extra eyes of storm chasers to record findings from a wide area of geography and times to paint a more accurate representation of weather patterns.  Private industries such as insurance companies may employ storm chasers to help determine the risk and need of policies in certain areas.
Tornado chasing in itself is merely a hobby and simply a passion of some avid weather buffs.  Chartered tornado spotting trips can be booked all across tornado alley in the mid-western United States.
"Tornado Alley" is unique to the global as being the perfect forming ground for tornado activity due to its position between two mountain ranges that bottle neck cold, dry arctic air with the warm wet air coming from the Gulf of Mexico.  This geographical phenomenon creates an arena housing over 90% of the worlds tornadoes.  With the expanse of flat land, storm chasers have the opportunity to view tornadoes clearly from a reasonable and safe distance.  The convenience and commonality of twisters in the west are another reason why "storm chasers" chase tornadoes.
Tornado chasers are but one aspect of storm chaser.  After the 1943 "Surprise Hurricane" that decimated Galveston, Texas, The "Hurricane Hunters" of the United States Air Force were formed.  It was found that the severity of storms could be interpreted from the air using sophisticated equipment and observation of the how well the eye wall of the storm had developed.  In many airports across the U.S., automated weather collection devices are housed.  Many of the airports employ human weather observers to be on hand to amend data collected from said devices.  These weather observers may not be storm chasers but are a lynch pin of meteorological data collection.
Tornado Chasing is integral to help identify patterns of meteorological phenomenon as they occur and where.  As it stands, Mississippi has on average more deadly tornadoes than any other U.S. state and with the use of storm chasers it is possible to reduce the number of tornado related deaths caused by lack of a warning system.