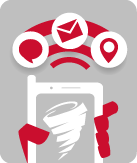 All iAlert.com services are listed at http://iAlert.com/services and you may notice there is a "Free Severe Weather and Emergency Alerts Single Location" and "Paid Severe Weather and Emergency Alerts Single Location" service.
These services are the basically same except for how text messages are delivered.? Free users receive text message alerts over the less reliable public SMTP network which does not work for all mobile carriers and can be slow for others.? Users with the paid single location service receive text messages over our most reliable SMS / texting network which works with any mobile carrier for instant alert notification to your mobile device.
If you are only interested in receiving email alerts or are ok with receiving text alerts over the public network then the free single location service is for you.? If you need the most timely and reliable text alert messages then you need to signup for either the paid Single Location or Unlimited Location services.
If you are still unsure which selection is right for you we recommend the more reliable paid service for the best iAlert experience, however with either selection you can always change your mind later.
If you have questions please contact us at http://iAlert.com/support.php
To view all iAlert.com services click link:? http://iAlert.com/services