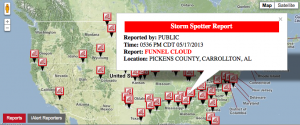 A Local Storm Report (LSR) is an event driven storm damage and observational report issued by the National Weather Service (NWS).  These reports are submitted to the local NWS office by trained storm spotters, amateur radio operators, storm chasers, law enforcement officials, and emergency management personnel.  The NWS uses these reports to track storm damage, verify warnings issued, or issue new warnings based on reports submitted.
Information found in these reports include:
Time/Date of event
Location (city, state, county)
Event type (Eg, Hail, funnel cloud, tornado, snow, and more)
Magnitude of event (Eg, size of hail, depth of snow, and more)
Reporting Source (Eg, Police, emergency manager, spotter, and more)
iAlert.com processes NWS Local Storm Reports and graphically displays the reports on the iAlert Reports Map or directly at http://LocalStormReports.com.