A Derecho (deh REY cho), or sometimes called a "Bow Echo" due to the bent curve of the radar signature, is a wide spread, long-lived, line or cluster of strong thunderstorms, that rapidly moves east or southeast, and produces a large damaging wind field over the length of the storm.
The June 29, 2012 Radar Imagery Composite Summary below nicely shows an actual derecho that started near Chicago and eventually pushed into Washington DC over 12 hours time.  Looking at this radar summary you will notice the largest width of the storm is over 240 miles, duration length of storm in the image nearly 450 miles (full path extended 700 miles into DC), and of course the signature "bow echo" or reverse "C" signature of a Derecho.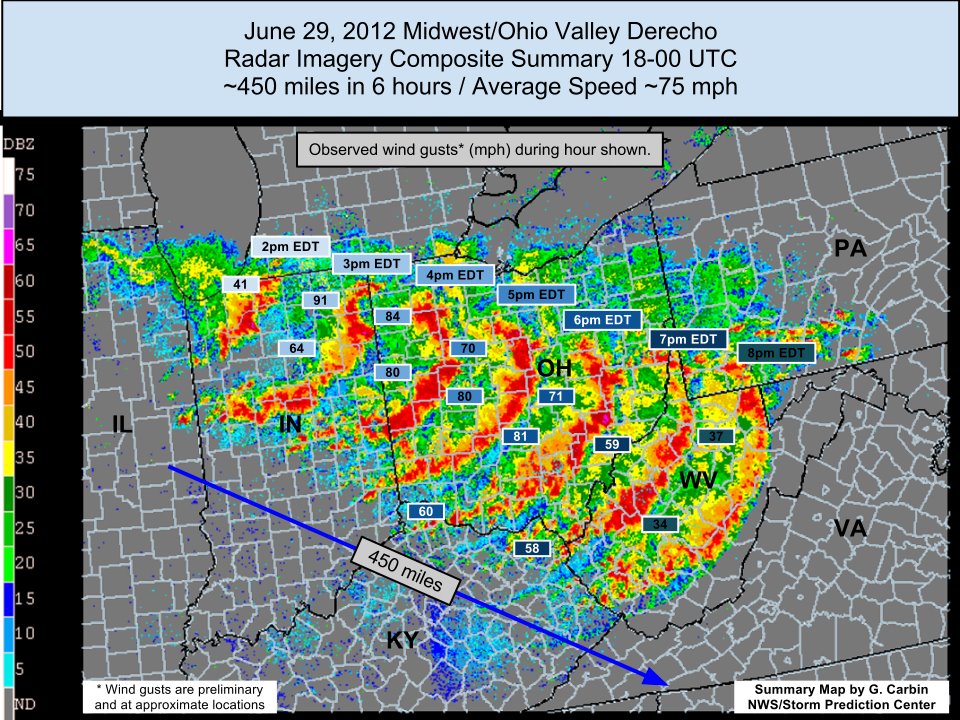 Specific Criteria for a Derecho:
Fast moving, long-lived wind storm
Violent thunderstorms coupled together
Wind gust > 58 mph
Wind damage extends > 240 miles
Finally, it is worth mentioning that there is not a "Derecho" watch, warning, advisory alert for this specific severe weather event.  Instead Derecho warnings are embedded in Severe Thunderstorm Warnings.  So in your iAlert.com member account if you have selected to receive "Severe Weather" alerts by email or text message you will be notified of an approaching Derecho. To learn more about the different alert types offered by iAlert.com click here.