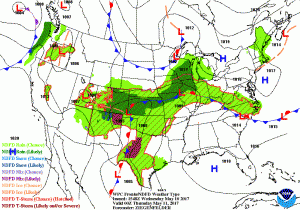 ..Unsettled conditions from the Rockies to the Ohio Valley, and mainly
dry for the Southeast states…
The weather pattern through the middle to end of the week will evolve from
an omega block pattern, with upper level lows over the Desert Southwest
and New England, to a more progressive pattern by Friday. The upper low
is forecast to reach the central Plains by Thursday morning and become
weaker aloft while sustaining a frontal boundary across the Ohio Valley
and central Plains.
In terms of sensible weather impacts, expect scattered to numerous showers
and thunderstorms from the central Rockies eastward to the Ohio Valley and
central Appalachians, with the greatest rainfall amounts likely across
Kansas and also for parts of West Virginia. Severe weather will be
possible from Texas to Indiana over the next two days with moisture
returning northward from the Gulf of Mexico, and the Storm Prediction
Center has additional details on that. Temperatures are forecast to warm
up for the Desert Southwest and southern Rockies, which had been cooler
with the upper level low in place early in the week.
Across the eastern U.S., temperatures are also expected to be below
average through mid-week compared to early May standards. This will
especially be the case across the Northeast U.S. and the Great Lakes
region. Rain chances will increase by the end of the week as moisture
returns from the west.