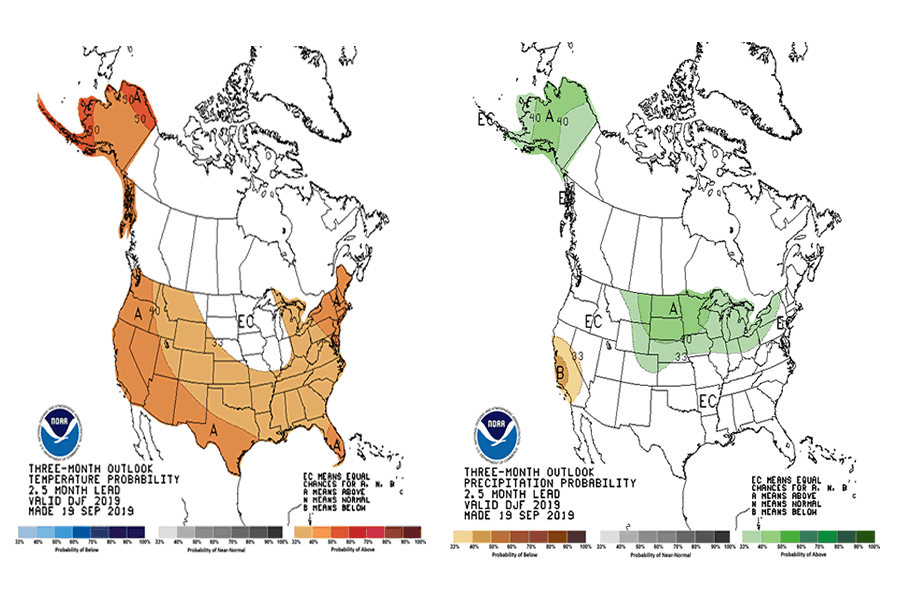 NOAA: The October-November-December (OND) 2019 temperature outlook favors above normal temperatures throughout the entire forecast domain, although
probabilities vary. The highest regional probabilities for above normal temperatures are forecast across parts of the Southwest, the Northeast, and the North Slope of Alaska. Probabilities for above normal temperatures are lowest from the northern Great Plains and Upper Mississippi Valley to interior portions of the east-central Gulf Coast region, and for interior parts of southern Alaska.
The OND 2019 precipitation outlook indicates that above normal seasonal total precipitation is favored near the Atlantic Coast from Florida to New Jersey, much of the west-central and central CONUS, and Alaska (excluding the Panhandle). Below normal precipitation is favored over the north-central portion of the West Coast.
Equal chances (EC; white areas) of below, near, and above normal are forecast in areas where the likelihood of seasonal mean temperatures or seasonal total precipitation amounts are expected to be similar to their climatological probabilities.
Related Articles: