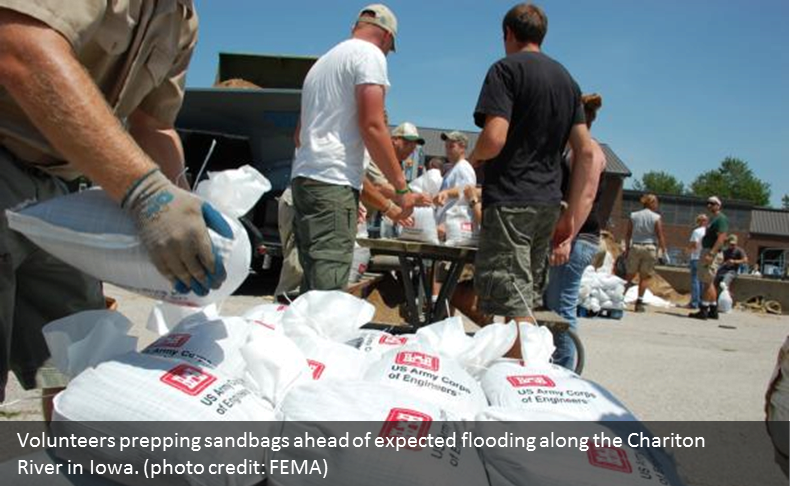 Sometimes floods develop slowly and forecasters can anticipate where a flood will happen days or weeks before it occurs. Oftentimes flash floods can occur within minutes and sometimes without any sign of rain. Being prepared can save your life and give you peace of mind.
Before a Flood
Know Your Risk:?Is your home, business or school in a floodplain? Where is water likely to collect on the roadways you most often travel? What is the fastest way to get to higher ground? Knowing the answers to these questions ahead of time can save your life.
Assemble and Emergency Kit:?It is good practice to have enough food, water and medicine on hand at all times to last at least 3 days in a emergency. Water service may be interrupted or unsafe to drink and food requiring little cooking and no refrigeration may be needed if electric power is interrupted. You should also have batteries, blankets, flashlights, first aid kit, rubber boots, rubber gloves, and a battery operated radio easily available.
Find alternate routes to important locations: ?Don't wait for flooding to know your way to safety
Make a family communications plan: It is important to be able to communicate with your family and friends in the event of a disaster. Whether it is having a specific person identified to contact for status updates or a safe location to meet up with family members, having a plan in place will give you peace of mind if disaster does strike.
Sign-up for Email/Text Notifications: ?Your phone is always with you have critical weather information sent directly to it. ?No "app" required
Charge Essential Electronics:?Make sure your cell phone and portable radios are all charged in case you lose power or need to evacuate. Also make sure you have back-up batteries on hand.
Prepare Family/Pets:?You may be evacuated, so pack in advance. Don't wait until the last moment to gather the essentials for yourself, your family and/or your pets.
Prepare Your Home: Homeowners insurance doesn't cover flooding, ensure coverage by contacting your insurance company or agent to purchase flood insurance. This must be done before there is a threat of flooding as insurance companies stop issuing policies in advance of a flooding event. (i.e. an approaching hurricane). Flood insurance policies take at least 30 days to go into effect.
If evacuation orders come:?

follow them!
Related Articles: