"I never saw it coming."
On the morning and afternoon of August 10, 2020, the phrase "I never saw it coming" was uttered countless times by Iowans that went through one of the worst storms in the state's lengthy history. As a cluster of thunderstorms that developed in southeastern South Dakota, the system rapidly morphed into a derecho as it moved across the Missouri River from northeastern Nebraska into western Iowa.
The derecho quickly strengthened in intensity, as it approached the Des Moines metro area around 11 am. Warning sirens boomed in the distance, but many residents failed to pay attention to the storm moving at around 60 miles per hour. After slamming into Des Moines and adjacent suburbs, the derecho grew into a massive storm that many meteorologists ultimately measured to span nearly 250 miles wide.
After blasting through cities such as Marshalltown, Cedar Rapids, and Davenport, the derecho moved across the Mississippi River, with its devastating eyes set on Chicago.
Gustavus Hinrichs, who worked as a physics professor at the University of Iowa, came up with the word derecho to describe storms that produced damage caused by straight-line winds. Derecho is a Spanish word that literally means straight. Professor Hinrichs wanted to differentiate a storm producing damaging straight-line winds from storms that spawned cyclonic tornadoes. Derecho officially became part of public knowledge in 2012, when a destructive storm swiftly moved 700 miles from Ohio to the mid-Atlantic coast, killing 22 people in the process.
The National Oceanic and Atmospheric Administration (NOAA) defines a derecho as "a widespread, long-lived windstorm that is associated with a band of rapidly moving showers or thunderstorms." For a storm to receive a derecho classification, it must move at least 240 miles, with average wind speeds reaching 58 miles per hour. As we will see, the 2020 Iowa derecho generated wind speeds that exceeded 100 miles an hour.
A Storm Like No Other
As of August 18, 2020, which is eight days after the derecho ravaged a large swath of Iowa, tens of thousands of residents remain without power. Straight-line winds over 100 miles per hour destroyed trees, power lines, and millions of dollars' worth of residential and commercial property. Iowa Governor Kim Reynolds submitted a disaster declaration to the federal government on Monday, August 17 seeking nearly $4 billion in aid.
"I want Cedar Rapids and Linn County, and all those that have been impacted by this national disaster, to know that the entire state of Iowa stands with you," she said. Reynolds said she spoke with President Trump and Vice President Pence to request an expedited approval process for her emergency declaration.
Cedar Rapids took the strongest blow from the Derecho, and Governor Reynolds stated at a press conference the damage left behind by the derecho exceeds the devastation left behind by the 100-year flood that hit Cedar Rapids back in 2008. Reynolds emphasized that more than 100 engineers deployed by the Iowa National Guard had gathered in Cedar Rapids to assess the extent of the property damage.
A spokesperson for ITC Midwest, which handles much of the power transmissions for utilities such as Alliant, said the Iowa derecho caused the most intensive damage to transmission lines in the company's history. If meteorologists measured the top wind speed of 110 miles per hour by using the Saffir-Simpson Hurricane Wind Scale, then the derecho should be classified as a Category 2 land hurricane.
Widespread Agricultural Devastation
On October 4, 1979, Saint Pope John Paul II made a historic pilgrimage to Iowa when he delivered an outdoor mass at Living History Farms located in Urbandale, Iowa. The Des Moines suburb hosted one of the most famous speeches in the annals of the Catholic Church when Pope John Paul called Iowa 'The Breadbasket of the World." On Monday, August 10, 2020, the world's Breadbasket lost roughly 10 million acres of farmland because of the widespread damage caused by the derecho.
Ten million acres account for around 43 percent of the total land that is farmed in Iowa. Most of the crop damage happened to highly vulnerable corn and soybeans, although reports have surfaced describing the carnage levied on pork producers. Iowa is the largest exporter of pork of any state in America.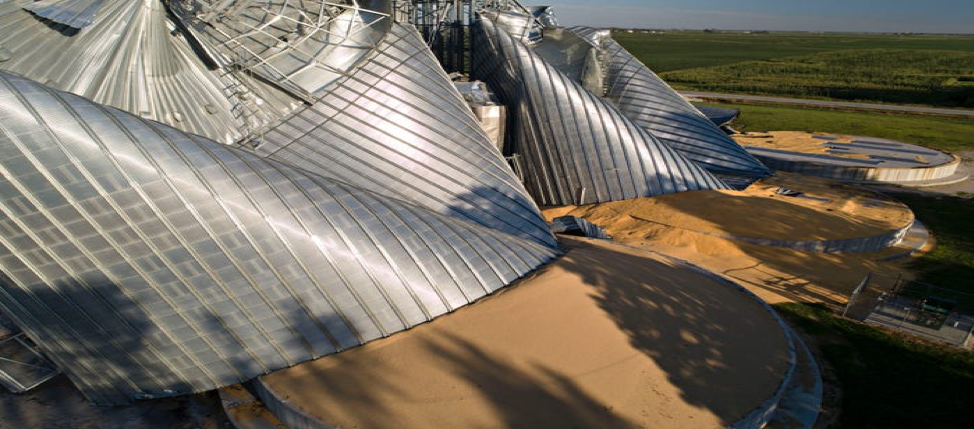 Even the harvested corn and soybeans stored in grain bins took a beating from the ferocious winds. The widespread and extensive crop damage in Iowa is visible from outer space. Images published in the Washington Post depict crop damage as much as 50 miles wide. Breathtaking images taken from ground level also clearly demonstrate the catastrophic loss of the food supply produced from America's heartland.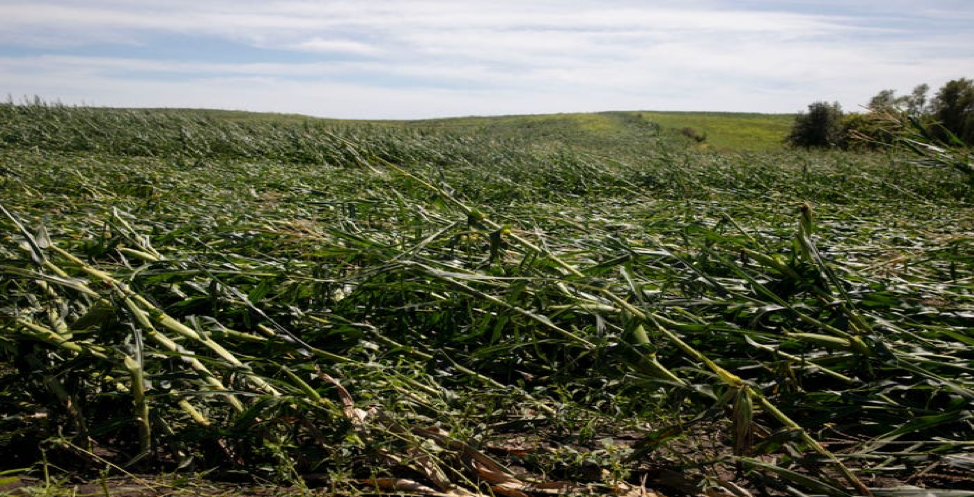 Agricultural industry analysts have stated that it is way too early to measure how much of the state's crop loss will be in 2020. One thing is certain: Consumers can expect a shortage of crop and soy-based food products on top of the losses generated because of the lower demand triggered by the COVID-19 pandemic.
Federal Government Steps in to Help
Shortly after Governor Reynolds submitted the emergency declaration for funds to recover the financial losses caused by the derecho. President Trump signed an emergency declaration freeing up at least $4 billion in federal financial assistance. Much of the financial aid targets distressed farmers, especially farmers that run family operations. Money also is allocated to recover the estimated $82 million in damages done to Iowa residences.
"I just approved an emergency declaration for Iowa, who had an incredible windstorm like probably they've never seen before," the president told reporters. "It really did a lot of damage." President Trump said a member from his administration told Gov. Reynolds and Iowa agricultural officials about his decision to approve the emergency declaration. President Trump stopped in Cedar Rapids on Tuesday, August 18 to tour the city and see the devastation up close.
Under the legal guidance mandated by the Federal Emergency Management Agency's (FEMA) Individual Assistance Program, the president said he approved assistance for 27 Iowa counties: Audubon, Benton, Boone, Cass, Cedar, Clarke, Clinton, Dallas, Greene, Grundy, Guthrie, Hardin, Iowa, Jackson, Jasper, Johnson, Jones, Linn, Madison, Marshall, Muscatine, Polk, Poweshiek, Scott, Story, Tama, and Washington.
Related Articles: